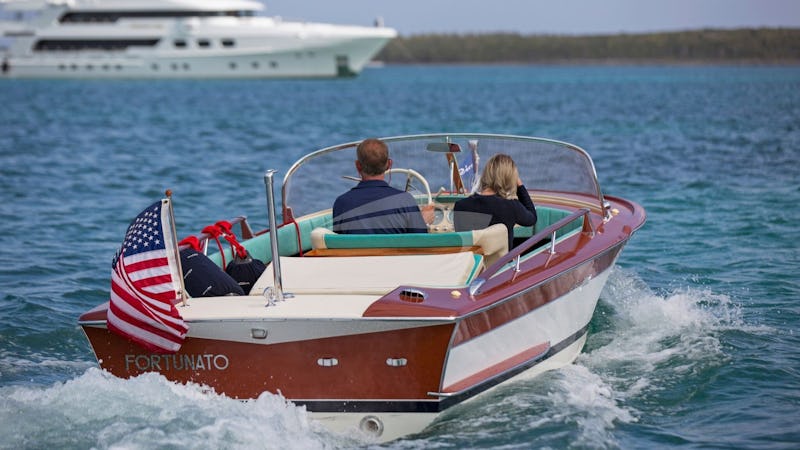 Charter This Yacht
120 ft / 36.6 m
│
5 CREW
│
FROM $72,000
│
8 GUESTS
120ft (36.6m)

26ft 3in (8m)

6ft 3in (1.9m)

1991

Feadship

De Voogt Naval Architects

8

Captain Timothy Laughridge

2019

11kts (20kph)

Stabilisers

United States

2x MAN at 738hp each

No

No
Captain: Timothy Laughridge
A "captain's captain," Timothy has more than three decades of professional experience and holds a U.S. Coast Guard 1600/3000 gross tons Master's license. Timothy has logged more than 300,000 sea miles, done multiple transatlantic and transpacific crossings, and completed two global circumnavigations. He has captained numerous large vessels—both sail and power—competed in prestigious regattas and offshore races throughout the world, and overseen the construction or major refit of a variety of yachts. Additional accomplishments include being one of the founders of the high-profile Bucket Regattas in Newport (originally in Nantucket) and St. Barth's.
When not in command of LADY VICTORIA, you may cross his path around the globe participating in the many Superyacht regattas. Hailing from New England, Timothy is very familiar with the cruising grounds spanning from Nova Scotia to as far south as Key West. He has had many successful charters over the years in Florida, the Caribbean and the Bahamas.
During the 9+ years that Timothy has been working with LADY VICTORIA's charter program, he has completed over 50 successful charters, and has garnered a reputation for keeping his boats in impeccable condition both in the guest areas and below deck. Timothy was instrumental in sourcing the newer larger "LADY VICTORIA " and over seeing the new upgrades.
Captain Timothy brings together an experienced, professional, compatible, and fun-loving crew, and with Timothy's creative and energetic flair for entertaining, the crew of LADY VICTORIA aim to exceed the expectations of the most demanding clients.
Chef: Gaylinn Fast
Chef Gaylinn Fast has been a chef on both private and charter yachts for the past five years, including M/Y CHERISH II and M/Y GO. Gaylinn's previous career was in the hospitality industry: she owned a successful boutique bed and breakfast for over 10 years in Litchfield County, Connecticut, as well as an event and catering company where her clients included Chanel, Ivanka Trump, Martha Stewart, Museum of Modern Art, Victoria's Secret, and Fine Cooking. Gaylinn has worked for and with many celebrity chefs, was a chef and food stylist for Better Homes & Gardens, and is a graduate of PLANTLAB Culinary.
Gaylinn has traveled extensively and creates dishes that reflect those experiences. She is especially fond of Mediterranean and garden-to-table cuisine, and her specialties on LADY VICTORIA include seasonal freshly pressed juices, farm-to-table, plant based, raw, gluten-free, scratch foods, hors d'oeuvres, and baked goods.
First Mate: Daniel Sampiero
Born and raised in Coconut Grove Florida, Dan began sailing at the age of six, and became enthralled with racing one designs, small keel boats, and all manner of making a sailing vessel go fast. His dedication and focus to sailboat speed and racing performance led to his first summer job at fourteen as a sailmaker's apprentice. Dan's thrill-seeking nature compelled him to pursue auto-cross, then motorcycle racing, and eventually, he settled on kitesurfing to satiate his need for adrenaline. In that time worked in the motorcycle industry, then transitioned into communication technology, and finally business to business sales. After over ten years in retail sales management and training Dan decided to cut off his tie, trade his dress shoes for no-shoes and took a job as captain on charter boats in the Florida Keys. Five years later, Dan earned his Divemaster rating, and covered over 15,000 nautical miles under sail, and was Captain for over 70 week-long charter excursions in Florida, the Virgin Islands and Puerto Rico. Dan still loves sailing but has a deep appreciation for the utility of all watercraft. As a member of Captains for Clean Water, Dan comes to our team with a passion for conservation and environmental stewardship.
Stewardess: Liga Sture
Liga has an extensive experience from stewardess and deckhand positions held on a variety of notable charter yachts including M/Y CETACEA 140' Feadship; M/Y B&B 130' Westport; M/Y PLAN A, 130' Westport; S/Y AXIA, 123' Palmer Johnson , and S/Y ZENJI, 183' Perini Navi; and M/Y APRICITY, 163' Mangusta. Outside of the yachting experience, Liga's background includes waitressing, bartending, and customer service. Liga is dedicated to delivering superior guest service, is meticulously organized, and has a warm and easy-going personality. She looks forward to treating you to a wonderful charter holiday onboard LADY VICTORIA. Liga's hobbies include sailing, sky diving, scuba diving, archery, painting, traveling, photography, fitness, and reading.
Engineer (Rotational): Edison "Sonny" Parker
A native of Key West, "Sonny" has been exploring and learning the waters of Florida from the very beginning. From early adventures with the family and the Scouts, to extensive kayak tours in college years, an intimate knowledge of the State's flora and fauna developed. Though starting out in the biology field, the irresistible pull of the sea led him to a career as a professional mariner. These days, he can usually be found in LADY VICTORIA's engine room, listening to jazz while carefully tending to her various onboard systems. In keeping with his diverse skill sets, he is often visible helping his fellow crewmembers, and is equally comfortable on deck and in the wheelhouse. For him, the greatest reward is the opportunity to grow through experience while keeping LADY VICTORIA in a condition befitting of her fine character.
Engineer (rotational): James Harrison
Originally from England, James has lived and has raised his family in Newport, RI for many years. James has been in the yachting industry for over 30 years working in various facets of the industry from first mate to engineer, on both sail and motor yachts. He has had the pleasure to sail on the top super sail yachts in the world in various regattas. James keeps LADY VICTORIA's systems running smoothly. He's a team player and personable with an infectious smile.
We are so happy to tell you how much we loved our time aboard LADY VICTORIA and the dedicated staff.  The boat was so beautiful and impeccably maintained.  We were very comfortable throughout the trip.  We enjoyed each destination and loved exploring in the tender.  The kids enjoyed night fishing and all the water sports.  One of the biggest highlights were the amazing meals prepared by Gaylinn.   We loved the fresh fruit in the mornings, the lunch salads and the fish for dinner. The presentations were unbelievable and to say we were impressed is an understatement.  And, she was incredibly warm and friendly and well prepared.  The captain and crew were professional and fun!  They were attentive and helped us create some crazy, beautiful memories.   
Client, August 2020
*****
We wanted to thank you so much for such a wonderful time in the Exumas!  Each of you added your own special piece to our experience that we'll remember our time aboard LADY VICTORIA always with a smile.  We were all together again this past weekend for where we continued to sing your praise. You're a great team and thank you for making us feel so welcome and going out of your way to give us such a wonderful cruise. 
Client, April 2019
*****

It was tremendous! Captain Timothy has a great team and although I know our parties are taxing on them, we had a lot of fun with the team.  I think they had a good time too. 
Client, April 2019
*****
I just wanted to tell you that our week on LADY VICTORIA was a great success and we all thoroughly enjoyed it. We did not get to travel around very much due to strong winds, but saw some beautiful places and had fun with our larger group of friends on other yachts. We got on very well withCaptain Tim and he and the rest of the team looked after us perfectly. As I now reflect back on our week, I wanted to say thank you for your help in organizing it all.
Client, April 2017
*****
LADY VICTORIA exceeded expectations.  It was spotless and spacious and the crew was constantly cleaning and maintaining the vessel. Our beds were comfortable, each stateroom had a TV and a bathroom, and closet space was ample. Captain Tim was very friendly and knowledgeable.  He explained options for sailing times based on the weather. Each meal made by Gaylinn was terrific!  Our boys especially looked forward to breakfast, and also her special treats after a long day of touring on the island.  She made a point of learning what each of us liked and crafted dinners to please everyone.  Thank you again for a wonderful experience!
Client, March 2017
***** 
The trip was great.  LADY VICTORIA was, if anything, better than her pictures.  Beautifully maintained and the accommodations were perfect.  To a person, the crew were professional, helpful and a pleasure to be around.  Capt. Tim was extremely capable, knowledgeable, low-key and relaxed and very available to us.  He provided really good restaurant suggestions and reservations along with a few very special activities (and yes, we tied up to the dock in Nantucket.)  We wouldn't change a thing. It was from start to finish a great experience.
Client, August 2016

*****
Best crew ever, Captain Tim is superb. The retrofit to LADY VICTORIA makes her a much better vessel plus all the new toys added.
We are blown away…

Client, February 2015
*****
Another outstandingly superb time on board LADY VICTORIA for our family! We thank you and the fine crew and applaud the boat's most superb face lift.Captain Tim, you have put this fine yacht into the wonderful category with other fine yachts. We admire your capability and attention to detail, and most of all, your sense of safety and security.
We are already looking forward to being onboard next year.

Client, August 2014

****
Captain Tim – now that we are home we are all re-living the fantastic vacation you and the crew gave us.  The boat was fantastic, but the crew was even better!  The level of service was incredible and it seemed like everyone anticipated our needs without us having to ask for anything.  I hope we can get on the water again together.  We also hope we can see you in St.Barth in the spring.  It will be here before you know it.







DVD library, Indoor audio system, Printer, Satellite TV, TV all cabins, TV saloon, Wi-Fi, 18ft/5.5m Riva 190hp, 16ft/4.9m Novurania 115hp, Kayaks multiple, Kneeboard, Paddleboards multiple, Tube - towable, Wakeboard, Water skis - adult, Book library, Jacuzzi on deck
Not Insured, Snorkelling gear
We have identified 3 similar yachts. Would you like to inquire on them as well?
Available in 2 areas
Guests 8
78ft 1in / 23.8m
From $72,000
Available in 2 areas
Guests 10
105ft 0in / 32m
From $70,000
Available in 1 area
Guests 8
111ft 11in / 34.1m
From $70,000